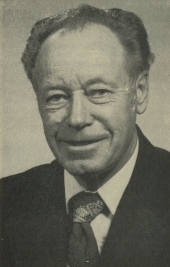 Dr. David W. Staniforth (1919-1984) was a pioneer in the field of weed science. His research efforts helped to shape the effective weed control systems used by farmers today. His experience spanned the development of modern herbicide technology, beginning with work on the mode of action of 2,4-D and continuing through refinements in weed control systems including the development of weed control for conservation tillage.
Dr. Staniforth was born in Ester, Alberta, Canada. He received his B.S.A. degree in 1944 and the M.S. in 1946 from the University of Saskatchewan, training under Dr. T.K. Pavlychenko. He came to Iowa State University in 1947 to pursue the Ph.D. in plant physiology, training under Dr. Walter E. Loomis. Following completion of the Ph.D., Dr. Staniforth was appointed as an instructor at Iowa State University in 1949 and continued the rest of his career at this institution, being promoted to Professor in 1960.
Dr. Staniforth's primary area of research interest was in weed biology-ecology. Although his research included determining effective uses for herbicides, his ultimate aim was always to learn something more about the nature of the weed and its environment, recognizing that this knowledge would always be lasting and useful. He was one of the first weed scientists to characterize the nature of weed competition with corn and soybeans, developing economic thresholds in the 1950's, long before the IPM philosophy and the use of weed thresholds came into vogue. He also foresaw possible problems associated with the long-term use of herbicides, including weed resistance and problems associated with herbicide residues in the soil.
Dr. Staniforth correctly predicted the dramatic changes that have taken place in tillage practices and began to work on weed control systems for reduced tillage systems in the 1960's. He was one of the first to conceive of the early preplant herbicide application system for no-till and was instrumental in the development of this system in the 1970's. Today this system is the most popular herbicide application method for no-till in Iowa.
In 1978 Dr. Staniforth was named a Fellow of the Weed Science Society of America. The Weed Science Society of America also bestowed a fitting acknowledgement of his contributions by dedicating the monograph, Weed Control in Limited-Tillage Systems, to Dr. Staniforth. In 1983 he was named "Distinguished Scientist" and in 1984 he was named "Man of the Year" by the Iowa Fertilizer and Chemical Association.
Dr. Staniforth's incisive mind stimulated others to think clearly. He was dedicated to his students. This was especially evident in his last year when his dwindling energy was spent on his students instead of himself. His students have gone on to influential positions across the United States. He was proud of and dedicated to his family. His standards of excellence challenged his family, his peers, and his students. But the sternest standards were reserved for himself. For those who knew him and for his family, this lecture is a fitting reminder of Dr. Staniforth's standard of excellence.
Staniforth passed away in 1984 and rests alongside his wife Earla in the Iowa State University cemetery along Pammel Avenue.
The Staniforth Memorial Lecture
November 1, 2020 – Dr. Stephen Duke
October 22, 2019  – Dr. Michael Walsh
April 3, 2018 – Dr. Fred Gould
November 7, 2017 – Dr. Paul Neve
October 25, 2016 – Dr. Marie A. Jasieniuk
​April 14, 2015 – Dr. Michael E. Gray
April 15, 2014 – Dr. David E. Ervin
March 5, 2013 – Dr. Frank Forcella
​April 26, 2012 – Dr. Jon Marshall
April 14, 2011 – Dr. Robert J. Kremer
February 25, 2010 – Dr. David A. Mortensen
February 25, 2009 – Dr. Allison Snow