Internship feature: Alli Harms with Cooperative Farmer's Elevator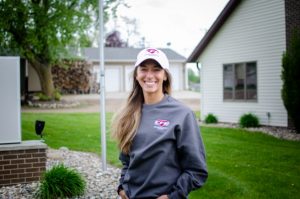 Alli Harms, junior in agronomy, spent her past summer in Milford, Iowa, with Cooperative Farmer's Elevator as an Agronomy Sales Intern. Each day was different throughout her internship. A couple of things she focused on were crop scouting, tissue and nitrate sampling, and attending meetings and plots. A few of her other responsibilities included putting up field signs, training, working on field trials, transporting materials to growers, and flying the drone. All of the different tasks she did throughout the summer gave her a lot of experience and insight into what an Agronomy Sales professional does.
The most memorable experience from Alli's summer was networking and going to different plot tours and meetings where she could talk to growers and other sellers from various distributors. "I learned a ton from this experience again; here's a list I compiled of most of the things I learned: scouting importance, products, how to fly the drone, staging in the field, floating roots, sticky traps, weed ID, Winfield united applications: R7 & FFT", Alli shared the most important things that she learned.
Alli gladly shared her advice for students looking into interning with CFE or any other companies. "Be prepared for anything and everything; no two days will be the same. Having an internship comes with great responsibilities also, so don't just treat it like another summer job. Make an effort to make as many connections as possible, meet growers, meet people within CFE, make sure someone remembers your face and your name because that could potentially be beneficial in the future."