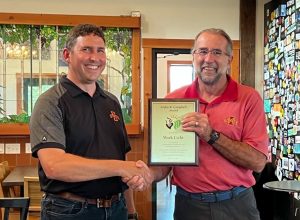 Dr. Mark Licht was presented the Arden R. Campbell award. The award recognizes a faculty member who has made notable contributions and provided distinguished service to the M.S. in Agronomy Distance Education Program.
It was presented to him during the reception and dinner of the online program's capstone class. The only time the online students come to campus during their time in the program.
Mark's service to the MS in Agronomy program started in 2016. He has taught classes for 16 sessions including the capstone Agronomy 594 and Agronomy 591 which dives into systems analysis. In addition to teaching, Mark is major professor or a committee member for 14 students.
The Arden R. Campbell Award is named in honor of Dr. Arden Campbell who was instrumental in the creation of Agronomy 511 and taught it for 14 years, including after he was technically retired.  He served on the Crops Development Team that coordinated the development and delivery of several courses and was a member of the Coordinating Committee that oversaw the development of the Agronomy M.S. program.  Dr. Campbell is known for his commitment to student learning and his outstanding citizenship to the Department of Agronomy.