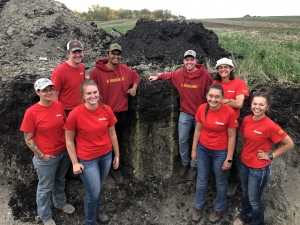 The ISU Soil Judging team traveled to regional competition in Crookston, Minnesota last week. After practicing for a couple days, the team dug (ha!) into the contest pits. An entirely new team, some of whom joined just three weeks before contest, it was an incredible learning experience.
"Overall it was a valuable learning experience," said Jonah Gray, agronomy and environmental science major. "I spent the entire week in soil pits where I could apply the knowledge I gained in class and build a deeper understand of soil as a whole."
Including the addition of a new judging category. Jumble judging combines members from two different universities to form a full team. Both teams that our students served on placed 2nd and 3rd, showcasing their teamwork skills.
"It was especially interesting to me to see the differences between Iowa and northwestern Minnesota soils, especially color differences and features we don't see in Iowa," said Casey Luke, agronomy senior.