A few of the highlights in Agronomy over the years.
1862
The Morrill Act is signed by President Abraham Lincoln endowing Federal lands to establish a college of agricultural and mechanical arts in each state. On September 11, Iowa Legislature accepts the provisions of the Act, making Iowa the first state to do so.
1887
The Hatch Act provides for the establishment of agricultural experiment stations and land-grant colleges.
1902
Agronomy is taught for the first time
1903
Professor and chair Perry Holden hosts a Farmer's Institute at Hull considered to be the beginning of Extension. Later he establishes demonstration farms, club work for youth (which becomes 4-H) and forms the corn "gospel trains" that travel throughout the state
1905
First comprehensive report on Iowa soils is issued, emphasizing that different soils require different farming methods.
1907
The first international student to receive a degree from ISU is in Agronomy.
1912
Agronomists set up the first long-term experimental plots south of Ames
1914
The Agronomy Seed Laboratory is created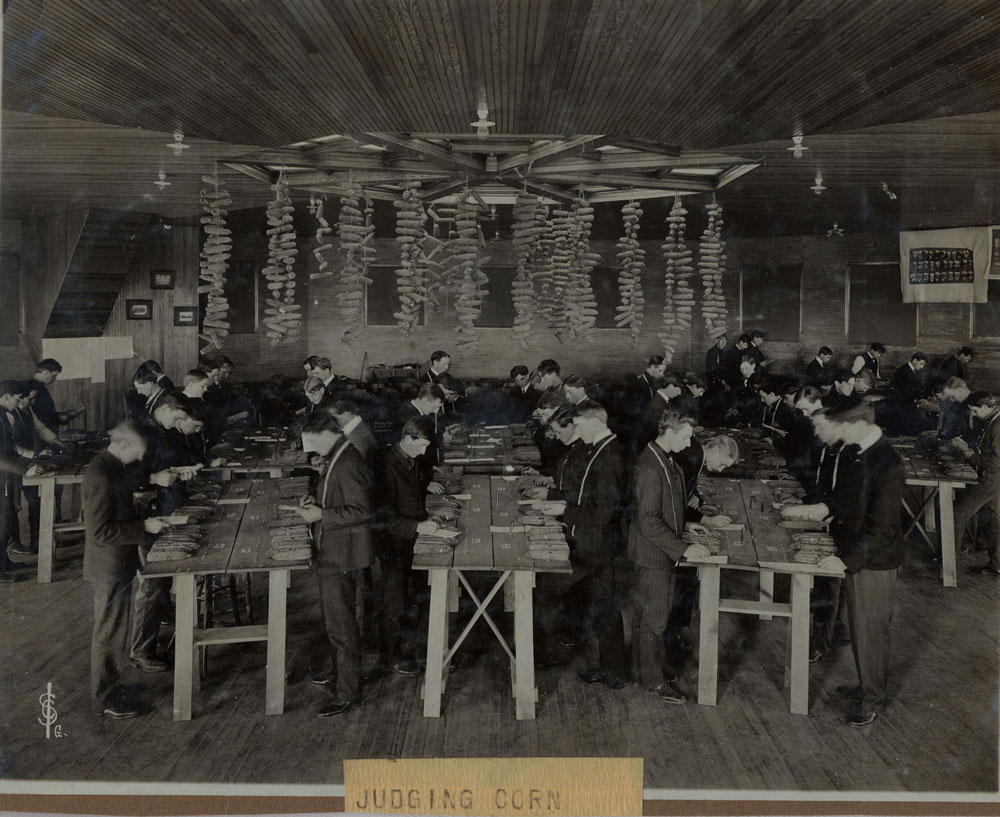 1922
The corn breeding program begins.
1933
Henry A. Wallace (a 1910 graduate) is instrumental in the development of hybrid corn. He serves as U.S. Secretary of Agriculture until 1940 and is elected vice president of the U.S. with president Franklin D. Roosevelt in 1941.
1943
The first student-managed farm in the nation opens. The Ag450 Farm provides hands-on learning for students today.
1945
Agricultural climatology research, believed to be the first research program in the nation, is established.
1949
The North Central Regional Plant Introduction Station opens to preserve and distribute plant seeds gathered throughout the world.
1950
Construction on Agronomy Hall began and was completed in July 1952.
1956
The Experiment Station's Corn Insects Laboratory releases the first corn variety resistant to the European corn borer.
1964
Agronomy begins using audio-visual equipment for some course instruction.
1965
Agronomy organizes the plant breeding symposium, attracting agronomy specialists from around the word.
1979
The nation's first extension climatologist is appointed in the Agronomy department.
1982
The east addition to Agronomy Hall begins construction and is finished in 1984.
1991
Walt Fehr (Agronomy) and Earl Hammond (Food Science) develop a soybean low in saturated fat that is recognized as one of the top 100 innovations in 1991.
1992
Iowa State hosts the first International Crop Science Congress.
1996
The Student run organic farm opens along with the Plant Transformation Facility, which is the first public facility that inserts genes into the genetic material of corn and soybeans.
1997
The first organic crop specialist is hired at a land-grant university.
1998
The first online Master's in Agronomy degree is offered.
1999
The department receives an endowment of $80 million, the largest private gift in Iowa State history at that time.
2001
The first sustainable agriculture graduate degree program is established at a land-grant university.
2006
Agronomy faculty study crops for biofuel production.