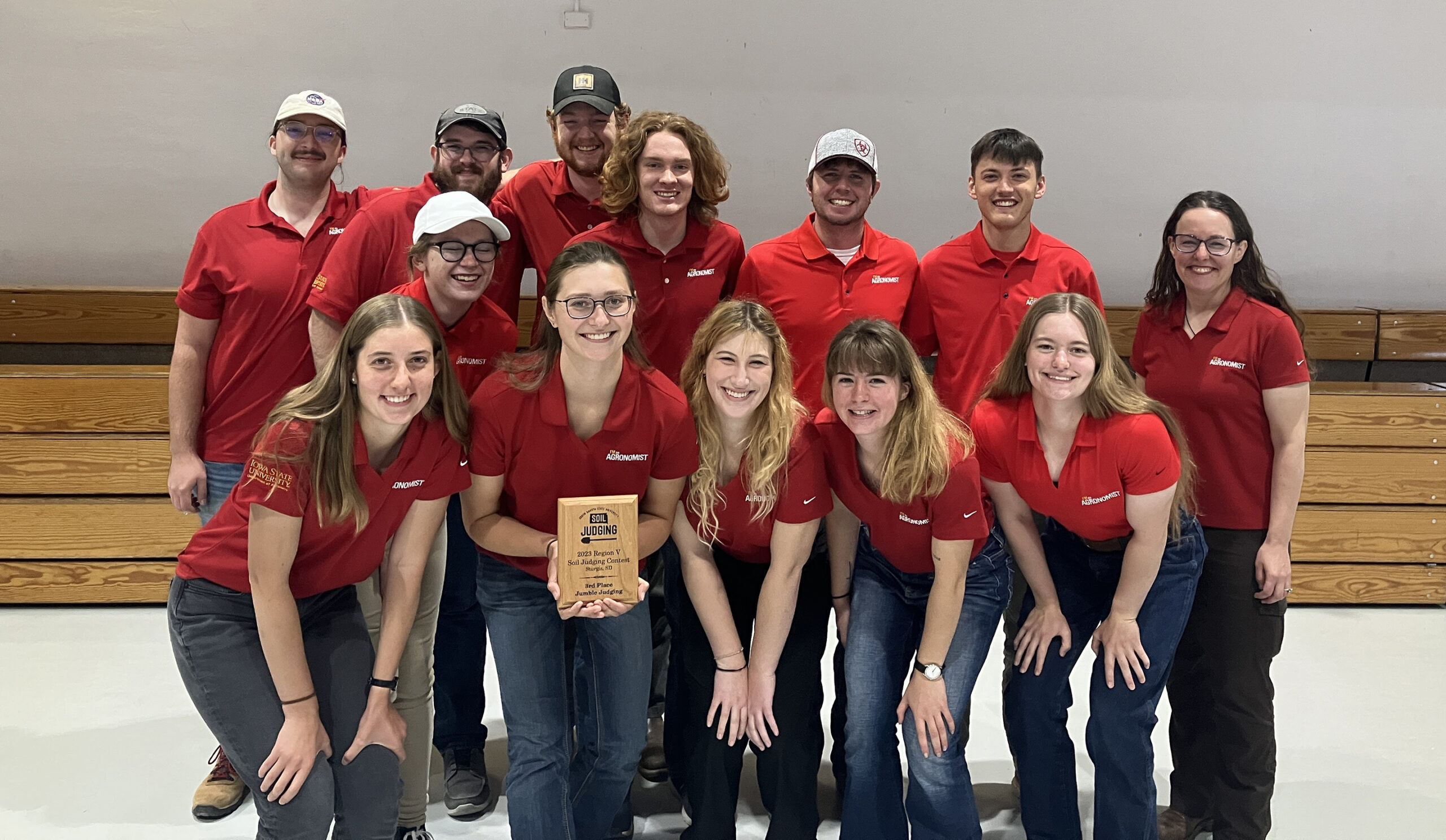 Congratulations to the ISU Agronomy Soil Judging team on their success at the Region V Soil Judging Contest hosted by South Dakota State University and South Dakota NRCS employees. The competition was held the first week of October near Sturgis and Deadwood, South Dakota and was led by Dr. Amber Anderson and assistant coach Adam Subora, a graduate student in soil science. The team took fourth place during the competition. Members of the ISU team also placed third in the jumble judging competition and Molly Simmons placed ninth in individual competition.
The event helps train students to describe, classify, and interpret soils both individually and as a team. Anderson explained, "Most of the week was spent learning about local soils and unique geography of Western South Dakota, which started with a geology tour of the badlands, continued through the example soil pits, discussion of major geologic formations and soil features of the area from the NRCS local and regional professionals."
Alex Cecil, a senior in agronomy and mechanical engineering said, "The competition allowed us to see many different soils which we don't get to see in Iowa, and it was a great way to learn."
The team was one of 10 participating in the multiple-region contest, which included the University of Nebraska-Lincoln, University of Nebraska-Omaha, University of Minnesota, University of Missouri, Kansas State University, Iowa State University, and South Dakota State University from region 5, and Colorado State University, Utah State University, and University of Idaho from region 7.
Iowa State University will host the national contest in spring of 2024. Approximately 25 collegiate teams from across the country will compete. Photos and information provided by Amber Anderson.
In group photo at top: front row from left: Rebekah Veldboom, Elizabeth Severson, Estelle Venable, Molly Simmons, and Evelyn Bauer. Second row: Kai O'Connell, Gavin Anderson, Austin Elm, Tad Hatfield, and Amber Anderson. Third row: Adam
Subora (assistant coach), Nicolas Truitt, Alex Cecil.