Recruiting Farmer Collaborators for 2024
Would you like to better understand and predict the optimum nitrogen fertilizer rate within and across your fields? We're looking for farmers to participate in our field trials for 2024. Sign up for more information.
Why
Nitrogen fertilizer is among the most critical inputs to crop production – and one of the costliest. When applied at the optimum rate, nitrogen boosts productivity and profitability and avoids the environmental costs of excess application. However, finding the optimum application rate can be a challenge: it can vary by more than 100% from field-to-field and year-to-year.
What
The Iowa Nitrogen Initiative is a private-public partnership with a vision to provide Iowans with the best nitrogen science in the world for the benefit of productivity, profitability, and environmental performance.
How
We are working alongside agricultural service providers, farmers, and their advisors to design, execute, and interpret hundreds of coordinated on-farm, scientifically robust nitrogen rate trials every year. These trials provide data that helps us understand the interactions among genetics, weather, soil type, and management, and how those impact cropping system outcomes.
This on-farm data infrastructure will allow ISU to use the latest advances in super-computing and quantitative modeling to forecast best management practices and demonstrate how Iowa farmers can maximize efficiency of their dynamic operations.
Objectives
Design and deploy a system of hundreds of on-farm scientifically robust nitrogen fertilizer rate trials every year through a public-private partnership.
Develop a nitrogen rate trial database that enables researchers to understand and interpret how various crop systems, genetics, soil types, and weather-years affect optimum nitrogen fertilizer rates. The database will ensure farmer anonymity and translate data into a public-facing tool (Objective 3) that allows all Iowans to observe rational nitrogen rates.
Update and enrich nitrogen recommendations with a dynamic benchmarking tool that allows users to move beyond the average by identifying the genetic, environment, management, and weather factors behind each trial.
Develop a forecasting tool that predicts cropping systems dynamics across soil types and weather years, allowing farmers to respond to current conditions.
Develop a hindcasting tool that allows farmers to compare what they did to what they could have done.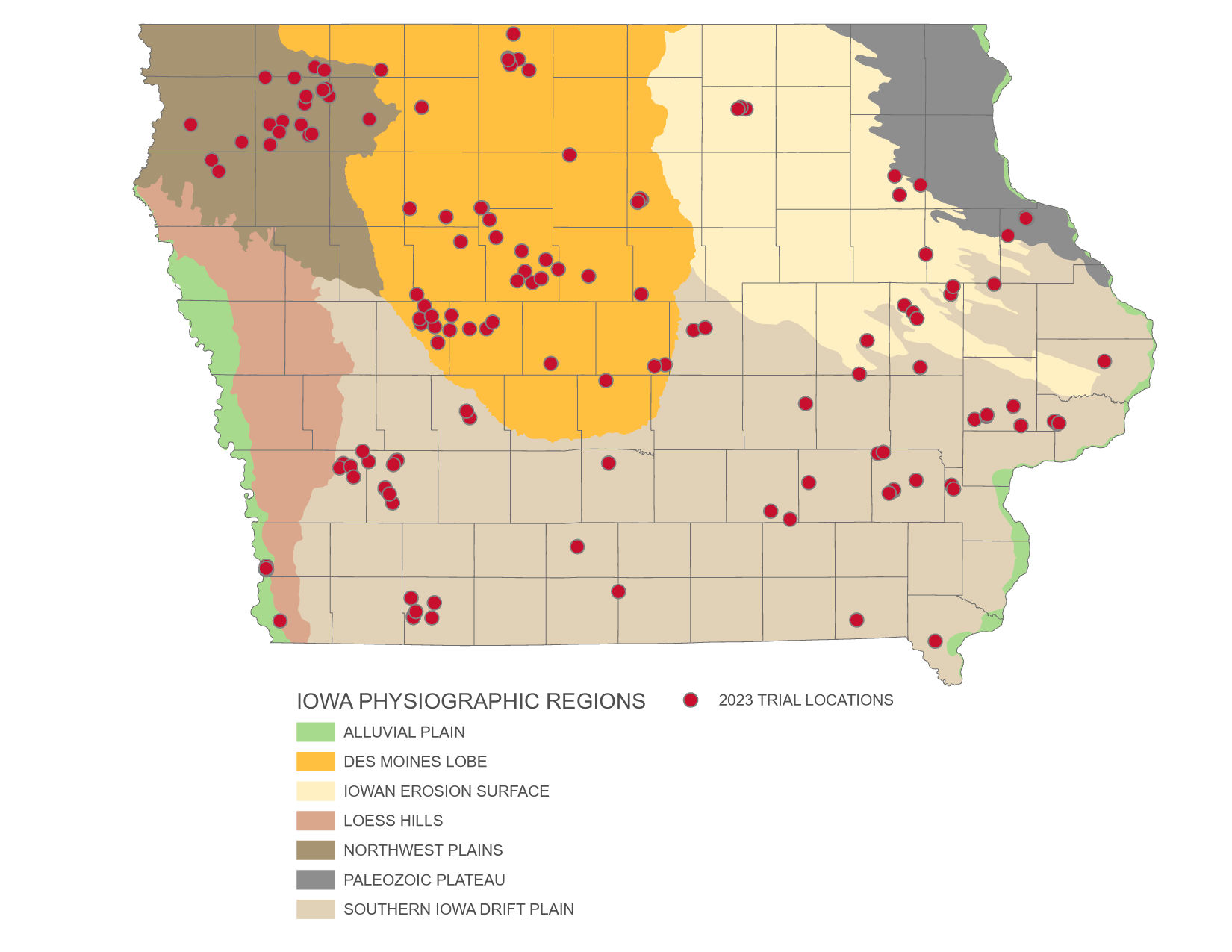 We have 270 on-farm trials applied for the 2023 crop year on 148 fields, working with 72 different farming operations. The results of these trials will be shared in early 2024.
We are currently recruiting farmers, certified crop advisers, and custom fertilizer applicators for 2024 trials. To learn more, sign up here and someone will follow up with you.
Professor and Lead, Iowa Nitrogen Initiative
William T. Frankenberger Professorship in Soil Science