Internship spotlight: Brooke Beinhart at Land O'Lakes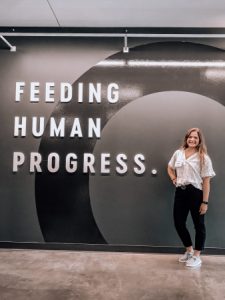 This past summer, senior in agronomy, Brooke Beinhart, had the opportunity to intern virtually with Land O'Lakes as their Corporate Sourcing Intern. Her daily tasks included attending meetings, following markets, and working on her capstone project. The capstone project she was working on consisted of developing logistical models to help meet the needs of the companies customers and finding more efficient ways to track feed consumption at the dairy farm level.
The most memorable part of interning with Land O'Lakes for Brooke was when she had the chance to visit one of the feed plants in Wilmar, Minnesota. When she visited the feed plant, she was able to experience the process of how the plant operates and how her role fits into their daily tasks. Seeing a direct correlation between her internship position and the actual day-to-day work happening in the feed plant was eye-opening and helped show her how her work was relevant.
"Leaving this internship, my biggest takeaway is knowing that every day will present its challenge, but with the right mindset and team, you can overcome any challenge." Brooke reflected on her summer with Land O'Lakes and shared that she learned many skills that will help her in her professional life.