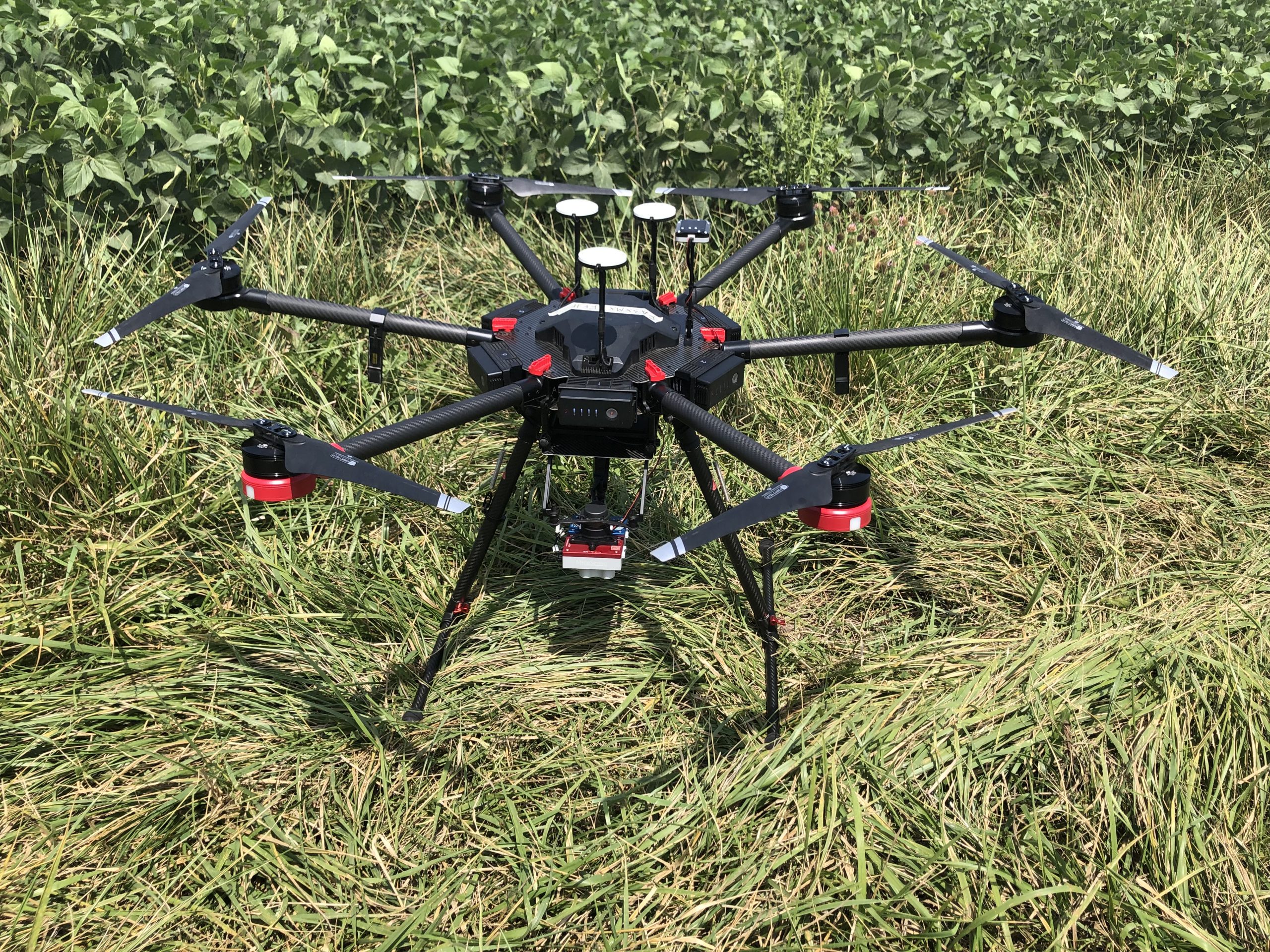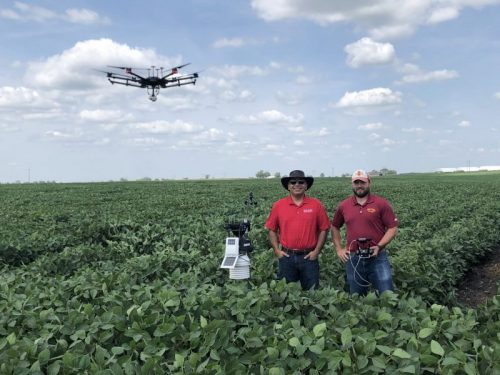 Choosing the best crop variety to maximize yield and profitability while still staying within budget is vital to any farm, whether its 100 acres or 100,000. It is also a driving objective for plant breeders that develop these varieties for farmers.
Plant phenotyping is an important part of that decision-making process in plant breeding and for farmers. Agronomy and engineering researchers at Iowa State University and elsewhere have published a paper reviewing the different equipment and methods of phenotyping a field using the latest unmanned aerial system (UAS) technologies while not breaking the bank.
Iowa State researchers, headed by Matt Carroll, a fourth-year graduate student in Dr. Asheesh Singh's lab, collaborated with Dr. Wei Guo and colleagues at the University of Tokyo, as well as with researchers at the University of Arizona who provided the cyber infrastructure expertise to make this review possible.
"We are excited about this paper and being Open Access so people can read it and have this information for their use. The approach that Matt and team took was to ensure that we are removing or minimizing the barrier of entry for people who have an interest in utilizing drone-based applications or that can lead to objective or action-based outcomes for farm production or research applications," Dr. Singh said.
Dr. Singh said the motivation or this paper actually came out of conversations with farmers, who wanted to know how to gather the information on phenotyping themselves. The target for this review paper is not only researchers, but farmers as well and even drone enthusiasts who want the ability to obtain accurate information from crops.
"Matt Carroll is a good example of someone who comes from a farming background who has over the years acquired these sophisticated technical and analytics skills that were not in his routine usage at the farm," Dr. Singh said.  "And using some of these tools and technologies and then using the data analysis puts him in a prime position as he also understands the constraints of farming as well as the opportunities for growth and profit."
Carroll explained that a phenotype is the genetic makeup of the plant and the environment it is experiencing. Basically, what you can see, like how green is the canopy, the height—what you can measure.
"You are looking for the best phenotype, and indirectly that means it's the best genotype, and over time you whittle it down to your best [varieties] in the breeding program," Carroll said. "When experimental varieties are harvested at the end of the year, there is a lot of documenting, a lot of notetaking looking at yield, disease incidences, and using things like drone based imagery is useful in finding out other information on which lines to keep and which lines to discard at the end of the year."
The process of using UAS for phenotyping has been around, but is gaining steam. Before it was all legwork, literally.
"Before using this technology, it was going out and taking notes in the field, going plot to plot covering larger areas in field," Carroll said.
Carroll's paper reviews the different terminology to introduce UAS, which is a system typically consisting of hardware (i.e., drone and cameras) and the control software (i.e., the programs that help run the hardware efficiently).
"My first project with UAVs was dealing with iron deficiency chlorosis. IDC causes millions in crop loss each year for soybeans, so we were looking at how can we use UAS to identify these deficiencies," Carroll said. "It is a very visual symptom so that is why we started with that."
Carroll then spent two weeks at the University of Tokyo with Dr. Guo, learning about UAS and how to extract data from the images.
"Out of that collaboration and internship in Japan we decided to write a review paper on it," Carroll said. "There is kind of a barrier to entry to phenotyping like this, like what type of cameras do I need, what drone, what else needs to be purchased along with it. We wanted our paper to be something that people could read and give beginners a starting point and allows them to be able to use this technology."
UAS are becoming an increasingly useful tool for crop producers all over, Carroll said. He did say that UAS does only see what is on top, so anything below canopy and or root based traits would need some different technologies, like ground rovers.
"The soynomics team at Iowa State University is looking at above and below canopies to marry these different traits into the optimum outcome," Carroll said.
He said to make sure to learn all local regulations when flying drones, and make sure to know how to extract the data that is gathered.
"The analysis downstream is important, figuring out how to get your data out of it, they are becoming a lot more accessible, some pay-for services, some open source," Carroll said. "Still a long way to go but it is becoming a lot better to reducing some of those struggles we have had in the past."
Weather is also something to keep in mind, as a consistent sky—either consistent cloud cover or no clouds—is an important factor to getting accurate readings.
Some of the cameras Carroll uses take not only regular video, but also multispectral, including infrared and red edge. This captures a lot more information than just regular RGB cameras capture.
"Doing any UAS or phenotype research, we work in transdisciplinary teams where we work with engineers, data scientists and people who aren't necessarily in the department of agronomy, and that really allows us to do a lot of this research," Carroll said. "Working together  across disciplines has really allowed us to do a lot of interesting research."
This research was possible with the financial support of the Iowa Soybean Association, USDA-NIFA and the National Science Foundation.