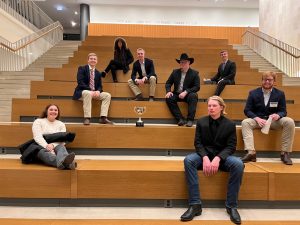 The 202 ISU Crops Team is a co-national champion! The team had great week placing 2nd overall as a team in Kansas City and 1st overall as a team in Chicago (which leads to the co-national champions).
"I'm very proud of this group and what they've accomplished," said Mindy Devries-Gelder, team adviser.
The official team consisted of Megan Blauwet, Alex Coughlin and Tom Thompson as well as alternates Tyler Atkinson, Alex Cecil and Ephraim Van Zante, plus assistant coaches Wyatt Bailey and Caitlyn Bruntz. Wyatt and Caitlyn placed high enough last year to be ineligible to compete.
All-American status indicates 95% or above which is very difficult to achieve.  Alex and Megan were the only overall All-Americans in Chicago for the entire contest and Megan pulled a very rare occurrence by placing All-American in all three events in Kansas City.
Thanks to the Department of Agronomy and the Iowa Crop Improvement Association for their continued support of the team.
Official results
American Royal National Collegiate Crops Contest – November 15th in Kansas City, Missouri
Participants: Megan Blauwet (Team), Alex Coughlin (Team) and Tom Thompson (Team)
Alternates: Tyler Atkinson, Ephraim Van Zante
2nd Place Team Overall

2nd Place Team Grain Grading
2nd Place Team Seed Analysis
2nd Place Team Identification
2nd Place Individual Overall – Megan Blauwet – All-American

6th Place Individual Grain Grading  – All-American
1st Place Individual Seed Analysis – All-American
4th Place Individual Identification – All-American

5th Place Individual Overall – Alex Coughlin

3rd Place Individual Grain Grading – All-American
2nd Place Individual Seed Analysis
5th Place Individual Identification

7th Place Individual Overall – Tom Thompson

8th Place Individual Grain Grading  – All-American
6th Place Individual Identification
National Collegiate Crops Contest – November 19th in Chicago, IL
Participants: Megan Blauwet (Team), Alex Coughlin (Team) and Tom Thompson (Team)
Alternates: Tyler Atkinson, Alex Cecil, Ephraim Van Zante
1st Place Team Overall

1st Place Team Grain Grading
2nd Place Team Seed Analysis
2nd Place Team Identification

1st Place Individual Overall – Megan Blauwet – All-American

1st Place Individual Grain Grading
3rd Place Individual Seed Analysis – All-American
2nd Place Individual Identification – All-American

2nd Place Individual Overall – Alex Coughlin – All-American

2nd Place Individual Grain Grading
1st Place Individual Seed Analysis – All-American
4th Place Individual Identification – All-American

6th Place Individual Overall – Tom Thompson

5th Place Individual Grain Grading
8th Place Individual Seed Analysis
5th Place Individual Identification