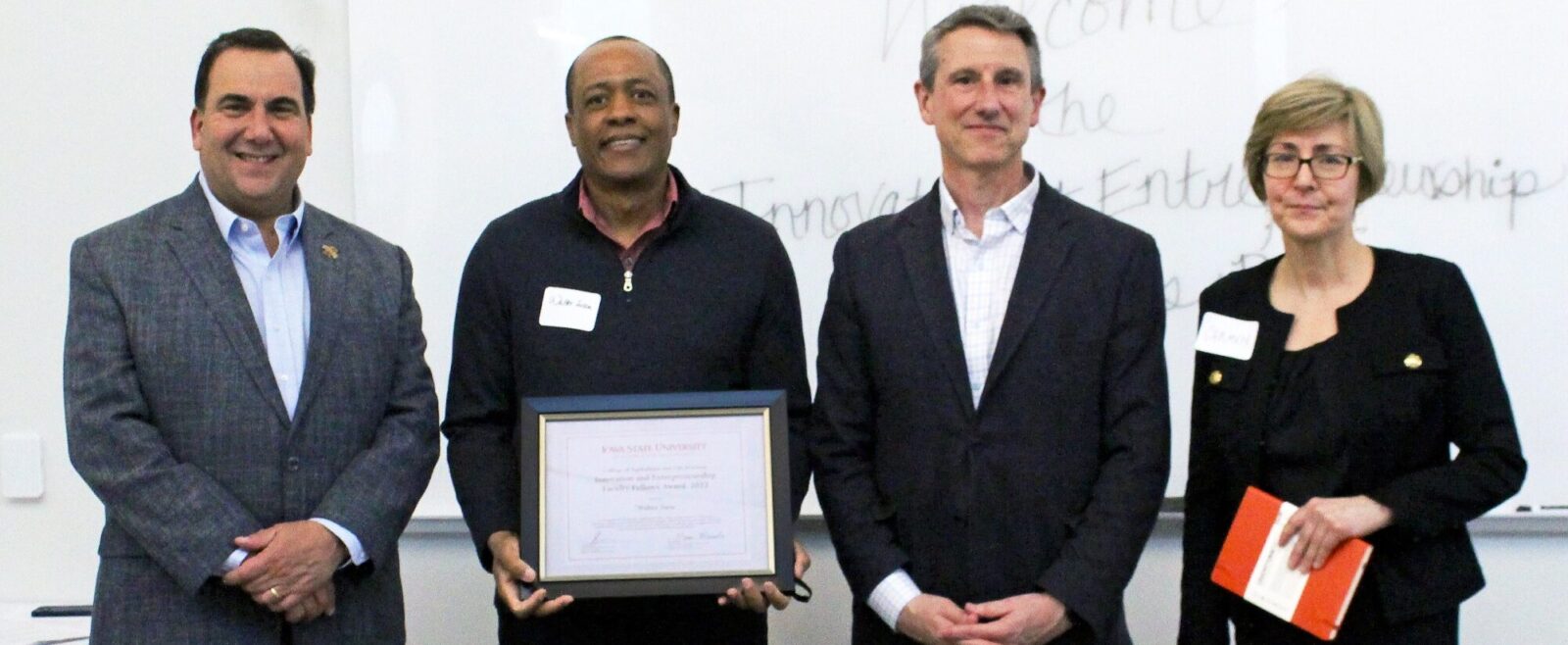 Walter Suza is making plant genetics educational materials more engaging and accessible for students on campus and far away.
An adjunct associate professor in agronomy at Iowa State University, Suza teaches the Genetics 320: Genetics, Agriculture and Biotechnology class in his department for several years. From the beginning, he was dissatisfied with the textbook options. The information that was most relevant to agronomy students was limited and came at a high price.
"I thought there must be a better way than to assign a $200 textbook that we only use a few chapters from," he said. He also found the available materials lacked hands-on examples or online demonstrations to reinforce concepts and laboratory techniques.
These challenges inspired Suza to create a new, open educational resource for the course – an OER in instructional lingo – with support from a Miller Open-Education Mini-Grant through Iowa State's Parks Library. The OER materials, especially tailored for agriculture majors, were first introduced in 2021.
Now, Suza and a team he recruited for the project, are creating a new set of Applied Learning Activities (ALAs) to enhance the lessons. They received seed money and support through Suza's participation in the Innovation and Entrepreneurship Faculty Fellows Program sponsored by the College of Agriculture and Life Sciences Dean's Office of Academic Innovation and Start Something CALS.
Suza's main collaborators have been Abbey Elder, an Iowa State librarian with expertise in educational instruction and accessibility, and Professor Don Lee, a long-time instructor in genetics at the University of Nebraska-Lincoln. Students have also helped with creation of the ALAs, editing and packaging materials for online access, including Marjorie Hanneman, who graduated in 2021 with genetics and agronomy degrees, and Stephen Gray, a graduate student in agronomy.
Suza's own credentials for the job include more than a decade of experience developing and delivering online educational resources for graduate students and professionals with the successful Plant Breeding E-Learning for Africa  curriculum, and as a course developer for Iowa State's online Master of Science in plant breeding.
His team's new genetics text covers basic topics, such as the life cycle of a cell, DNA and how it relates to genes and chromosomes, and more sophisticated DNA analysis and genetic biotechnologies.
"With the addition of the ALAs, we'll be able to even more strongly approach genetics in the context of why the concepts matter and how to use them to solve problems," Suza said.
"For instance, when you engineer a new gene into a plant, it's important to learn how to find evidence that the new gene is working. What changes in the growth and development of the transformed plant will you look for? I provide results from my own research so students can start learning how to work with often-messy data to answer such questions."
As a teaching assistant for Genetics 320, Gray, now working as a plant breeder for industry and finishing his master's project, said he found the addition of applied, real-world examples reinforced the concepts to improve students' understanding. "One of the core things I take with me was Dr. Suza's emphasis on service to students that the OER represents," he continued. "Textbooks for general education courses can get so expensive – some students just can't afford them. I saw how having the materials available to everyone helped alleviate stress and created a better learning environment.
While Suza's fellowship is finished, the OER team continues to compile video resources and ALAs for the project. Additional contributors have also been recruited, including Amy Toth, Iowa State professor in ecology, evolution and organismal biology, who is sharing course material on bee genetics.
"This is a huge project, but we expect to have the set of ALAs completed this fall. A lot goes into developing modern instructional technology," Suza said.
"One of the biggest challenges with creating OER materials is how to fund and sustain a high-quality, free resource. The demand is out there, though," he said, referencing more than 86,000 online users so far. At least two institutions have adopted the OER, including Trinity Washington University in Washington, D.C., and a university in the Philippines.
Among Suza's next steps is a market analysis to create a long-term business plan for the project, with help from new mentors that have come through the CALS faculty fellows program.
Former Department of Agronomy Chair Kendall Lamkey, now CALS associate dean for facilities and operations, has been supportive of Suza's initiative since early on. Lamkey, who has a background in plant breeding, knows the challenges students often have with the course.
"I applaud the work that Walter and his partners on this project are doing to make the topic more relevant to our students' interests and future careers. Not only that, Walter and his team have helped develop a great platform for this and future OERs that will be more permanent, accessible and relatively easy to update. They have a good, student-centered product, and it's great to see the impressive interest in it."
Article by Ann Y. Robinson, CALS
In Photo at top: Walter Suza, adjunct associate professor in agronomy (second from left), was recognized as one of Iowa State's first Innovation and Entrepreneurship Faculty Fellows at an event in spring 2023. With him, from left, are: Daniel Robison, holder of the College of Agriculture and Life Sciences Endowed Dean's Chair; Kevin Kimle Rastetter Chair of Agricultural Entrepreneurship and director of Start Something College of Agriculture and Life Sciences; and Carmen Bain, CALS Associate Dean for Academic Innovation.