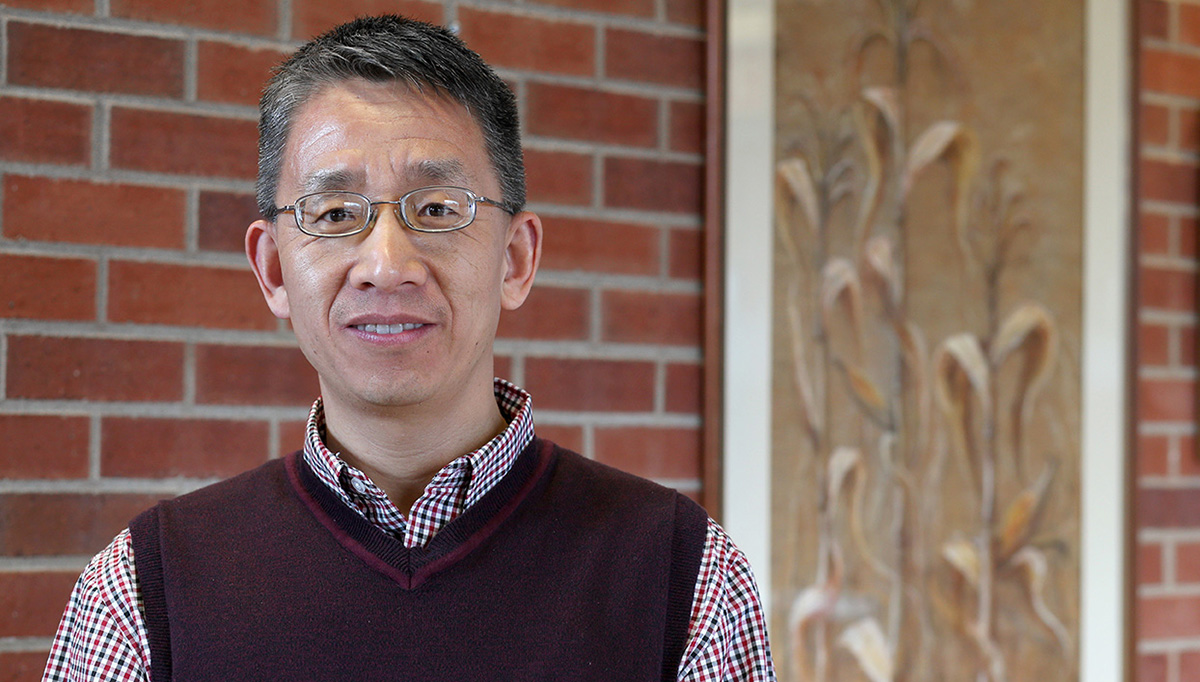 August 14, 2023 – Jianming Yu will become the fourth director of the Raymond F. Baker Center for Plant Breeding at Iowa State University, effective Aug. 16. He will replace Thomas Lübberstedt, who has served as the center's director since 2007.
AMES, Iowa – Jianming Yu's extensive background in plant genetics and breeding research will serve him well in his new role as director of the Raymond F. Baker Center for Plant Breeding at Iowa State University.
Yu is a professor and Pioneer Distinguished Chair in Maize Breeding in Iowa State's Department of Agronomy. He is known as one of the top scientists in the world for quantitative genetics, which interfaces plant breeding, genomics, molecular genetics and statistics.
His role as Baker Center director takes effect Aug. 16, following Thomas Lübberstedt, K. J. Frey Chair in agronomy, who has served as the center's director since 2007.
"Professor Yu is not only an eminent scientist, but also has a special ability to engage and excite faculty and graduate students about new opportunities in plant breeding," said Patrick Schnable, Distinguished Professor of agronomy and director of Iowa State's Plant Sciences Institute. "As such, I believe as director, he will foster innovation at the center."
Yu has been a faculty member at Iowa State since 2013. Much of his research focuses on developing and implementing new strategies and methods in complex trait dissection and crop improvement.
As the center's incoming, fourth director, Yu plans to use his experience to further Raymond F. Baker's vision to enhance plant breeding programs for diverse crops – from major row crops to emerging new crops. Yu also plans to use new and future technologies available in the plant breeding field.
"I would like to see the Raymond F. Baker Center for Plant Breeding better known as a center of plant breeding innovations through technology, analytics and design. Efforts will be devoted to research, training and communication to make this happen," Yu said.
In addition to his research responsibilities, Yu teaches Agronomy 621: Advanced Plant Breeding each spring. In the class, graduate students learn how to create a research plan and use advanced technologies to better understand and improve plant breeding methods. He encourages students to think creatively and critically and not be afraid to ask questions.
Further plant breeding learning opportunities will continue to be offered to students through positions at the Baker Center under Yu's leadership.
"We appreciate Thomas Lubberstedt for his 16 years of dedicated leadership and service as the director of the center," said Mary Wiedenhoeft, Morrill Professor and interim department chair of agronomy. "We anticipate that Yu's ongoing leadership training as a member of LEAD21's Class 19 will facilitate this transition and move the center forward."
Yu's work led to him being named a Fellow of the American Association for the Advancement of Sciences in 2018. That same year, he was named a Fellow of the Crop Science Society of America. Other awards he has received include the Raymond and Mary Baker Agronomic Excellence Award from the Department of Agronomy and the Mid-Career Achievement in Research Award from Iowa State.
He earned his bachelor's degree in agronomy from Northwest Agriculture and Forestry University in China and his master's in agronomy from Kansas State University. He also holds a doctorate in applied plant sciences from the University of Minnesota.
About the R. F. Baker Center for Plant Breeding
Founded in 1999, the Raymond F. Baker Center for Plant Breeding aims to advance the science of plant breeding through hypothesis-driven research, the development of enhanced germplasm of diverse crops, and the education of students and postdoctoral fellows. The center is affiliated with Iowa State's Plant Sciences Institute and Department of Agronomy.
The center was established to further the work of its namesake, Raymond F. Baker, who earned his bachelor's degree in agronomy from Iowa State in 1935. Baker went on to work as a lead plant breeder at Pioneer Hi-Bred International for more than 40 years. He is known for developing many of Pioneer's first corn hybrids, using techniques and procedures learned under the guidance of Henry A. Wallace, founder of what was then called Pioneer Hi-Bred Corn Company and former U.S. Secretary of Agriculture. Baker was awarded an honorary doctoral degree from Iowa State in 1991.
Aligning with Baker's beliefs in advancing plant breeding for future generations, Yu has sought to establish a culture of respect, encouragement and collaboration during his time at Iowa State. He plans to continue to prioritize these values in his new position.
"Continued promotion of the Baker Center, its members and our research are needed to make things possible in terms of increasing collaboration with other faculty and institutions, being considered as a partner, attracting the attention of potential graduate students, detecting new research trends and generally establishing a reputation for excellence in different research areas," Yu said.
Contacts
Jianming Yu, Department of Agronomy, Baker Center for Plant Breeding, 515-294-2757, jmyu@iastate.edu
Whitney Baxter, Agriculture and Life Sciences Communications, 515-294-2314, wjsager@iastate.edu