Breeding of plant based protein crops (mung bean and urd bean) using USDA germplasm
Mungbean (Vigna radiata) L. Wilczek and Urdbean (Vigna mungo) are important pulse crops worldwide. They are commonly referred to as green gram and black gram. They were produced in America in the 1830's as Chickasaw pea. Most of the mungbean production in the US is currently in Oklahoma; however, small portion is also grown in Kansas, California, Tennessee, Kentucky, and Texas.
Mungbean and urdbean are short-season (60-90 days) legume crops with good drought tolerance. These crops are used as a food crop particularly for a plant-based protein diet; and from an agronomic perspective, it is useful as a cover crop, a rotational crop, and a double crop. The attractive features of this crop as a food crop are its neutral taste, versatility in applications, high nutrition value, and easy digestibility. Additionally, there is a rapidly growing market demand.
This project was initiated in 2017, and since inception has involved numerous farmers in multiple states and processing companies nationally to set up breeding and research objectives. Approximately 3,000 mungbean and 300 urdbean accessions were obtained from the United States Department of Agriculture (USDA) germplasm collection bank, Griffin, GA, USA. These lines underwent extensive field evaluations in Iowa; and 482 mungbean and 30 urdbean lines with production potential were selected for further research and development. Based on these results and yield testing, new varieties will be recommended to farmers. The 482 mungbean lines were sent for genome sequencing to correlate regions in the genome with specific traits, to identify genes responsible for the traits of interest and SNP markers linked to the trait of interest, so targeted breeding can be done. Examples of traits that were phenotyped included days to flowering, plant height, days to maturity, seed weight, plant growth habit, seed quality, diseases, and pest resistance. Our first paper and its results can be seen here: https://acsess.onlinelibrary.wiley.com/doi/full/10.1002/csc2.20322. Currently, several breeding populations are undergoing advancement and selection to develop new varieties for the US farmers.
Our work suggests that mungbean farming will easily fit in the current mid-west agricultural production system, including no major equipment changes by soybean farmers. More research is needed to understand agronomic practices including standardization of seed rate, planting dates, and crop rotation; food quality trait research on seed protein and other functional characteristics; identification and mitigation strategies of diseases and insect-pests; and genomics and phenomics tools for breeding strategies.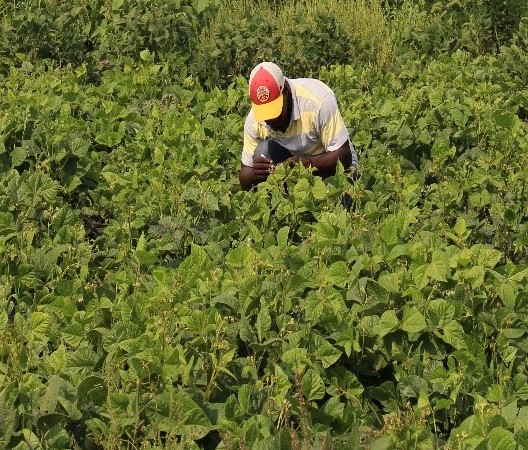 Project End Date: November 1, 2017