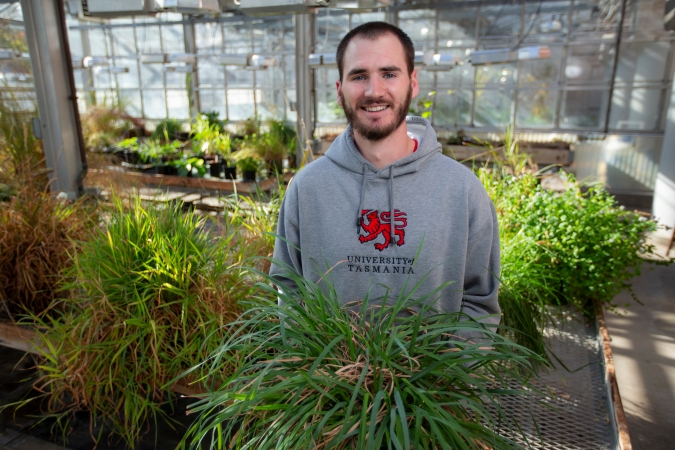 In high school, Kaleb Baber wouldn't have pictured himself studying abroad. But, after discovering his love of travel as an undergrad at Iowa State, he's serving as an officer for an international student organization.
Baber, a senior in agronomy from Weston, Missouri, maximizes his experiences at Iowa State through extracurriculars on campus as well as serving as the vice president of the International Agriculture Club at Iowa State.
"Once I came to Iowa State I realized how affordable studying abroad is and how we have such great opportunities to travel. Various scholarships were also offered, so it was kind of a no-brainer for me to go," says Baber.
He is the recipient of the Elinor L. Fehr and Walter R. Fehr Endowed Scholarship, the Agronomy Academic Fellowship and the Dean's Study Abroad Leadership Scholars Scholarship. Baber studied abroad in Australia, where he gained hands-on experience in animal science. He learned about the history of Australia and gained a broad knowledge of the agricultural commodities produced in different regions of the country. He visited cultural sites like Uluru-Kata Tjuta National Park, the Port Arthur Historic Site and the Sydney Opera House. Baber also had the opportunity to travel to New Zealand.
"Coming from the Midwest, my experiences with agriculture before college were with corn and soybeans. It was really exciting to experience agriculture first-hand somewhere different," says Baber. "I took a pasture and animal science class abroad where I worked sheep one day with a farmer. That was really interesting to me because I had never even touched a sheep before."
Marshall McDaniel, Baber's academic adviser and assistant professor of agronomy, emphasizes the importance of traveling abroad to all of his students. He teaches an annual study abroad course during spring break rotating among Australia, Argentina and Spain.
"I think studying abroad is critical. It gives students a different perspective on agriculture and also allows them to see a different culture," says McDaniel. "I recommend my advisees take advantage of studying abroad while they are here because in the future they might not have the same opportunities."
In addition to traveling and serving the International Agriculture Club at Iowa State, Baber is the fundraising chair for the Agronomy Club. He also has worked as a research assistant collecting and processing soil and water samples for the Agricultural Water Management Research Group.
And, he was a peer mentor for the Department of Agronomy guiding incoming freshmen to successful first-year experiences. Studying abroad helped Baber develop soft skills like independence and confidence.
"It used to be that I couldn't imagine even traveling abroad, but now I'd live abroad if the right opportunity arises," he says.