Alumni feature: Trey Whitfield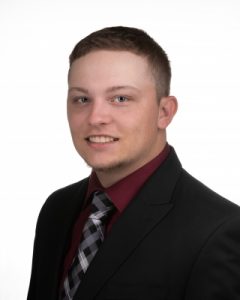 We always like to check in with our alumni. Trey Whitfield graduated with his Bachelor's degree in Agronomy and a specialization in Soils from Iowa State University in May of 2021. Trey shares that he currently works for ServiTech as an Agronomy Specialist.
Iowa State's goal is to help all undergraduate students be and feel prepared for the next steps in their lives, whether moving on to grad school or starting a full-time position. "I believe ISU gave me the proper instruction and knowledge in agriculture to have a solid base to stand on and build my career as an agronomist," Trey shares. The College of Agriculture & Life Sciences presents students with a terrific opportunity to learn and grow as young professionals in the industry. Trey expressed how Iowa State will give you a great starting point to build your career in agriculture.
As an Agronomy Specialist with ServiTech, Trey uses precision ag software and new equipment to do soil sampling in the spring and fall, tissue sampling, and crop scouting. He also focuses on making nutrient and product recommendations for the farmers ServiTech works with. He works on equipment calibrations, manure management plans, and even drone flights. Agronomists wear a lot of hats, and they need to become skilled and knowledgeable about many aspects of the agronomy area.
As a recent grad in the workforce, we see Trey's advice as extremely important for undergraduate students to hear. Trey had a lot of great advice to share with agronomy undergraduates. "Don't get stuck on the thought of trying to know everything about agriculture before you graduate. The real learning goes on after you graduate in the first few years of your career. Try your best to retain what you are being taught, but it is not a big deal if you don't absorb every little thing you hear in class. As long as you are honest, have a strong work ethic, and enjoy your work, you should thrive in life after college."