USDA AgDiscovery comes to Agronomy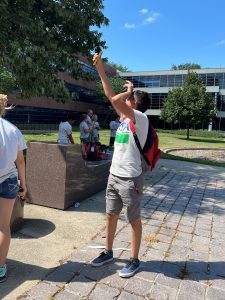 We were excited to host 16 high school students from across the country this week for the USDA- Animal and Plant Health Inspection Service (USDA-APHIS). AgDiscovery is a unique opportunity for students to explore agricultural sciences and gain knowledge about careers in animal and plant disciplines, wildlife management, veterinary medicine, biotechnology, entomology, food safety, food production, agribusiness, forestry, and much more. Students experience hands-on learning workshops, behind-the-scenes tours, laboratory and field exercises, and a variety of character- and team-building activities.
Students learned about weather and climate and its role in plant development from graduate student Richard Cirone. Amber Anderson talked to the group about soil types and the importance of healthy soils.